Original Content from 30th April 2014
Our customer asked us to manage the signage and window property displays for their brand new office in Aberdeenshire.
We fitted new signs to the shop fronts, an old bank building, using dibond panels with the logo applied in colour vinyl, with open edges filled in using black, stylish, bull-nose edged pvc cladding.
We fitted a range of LED light pockets for the property displays, and a digital media player from our Slimline range, with a networking facility that allows the media player to be updated remotely anywhere online, using our online dedicated software. The media player downloads this content by connecting online using the premises' wifi.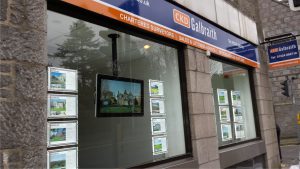 These are our A4 Landscape sized LED light pockets, and the digital screen media player is the 32″ version from our Slimline range, which includes it's own in-built hard drive and wifi connectivity, allowing it to be updated, controlled and monitored from anywhere using our online software.