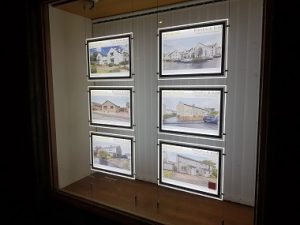 Our customer asked us to advise and supply and fit LED illuminated window displays at two of their large offices in West Lothian, and are delighted with the results.
In order to conceal the transformers, power cables and other electrical components, we met with their electricians and agreed the best way to install while hiding all electrics and controlling costs.
An issue which many of customers face, due to estate agents and solicitors traditionally being located in old buildings, is that signage for them is very difficult to achieve.
With the LED light pockets, we find that our iluminated logo option is very popular with our customers, as it allows them to market their branding with illuminated signage, all within their window space, eliminating the need for expensive external signage and the complications of planning permission.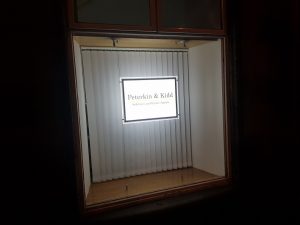 We also supplied an A2 light pocket suspended from the ceiling, in order to illuminate the customer's logo, effectively creating an illuminated floating logo sign in the window.
Also, the same logo illumination within the reception area is also proving popular with our customers.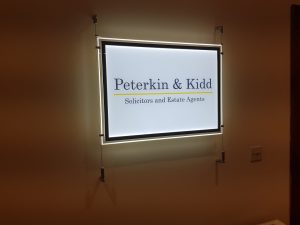 We're delighted for yet another very happy customer.
Got a question? Call us now:
LED Illuminated Light Pocket Window Displays for Estate Agents, West Lothian, Scotland, Mid-Calder