Poster Board Hire Q&A – Advice to help you organise your event
I'm new to this?  I need some quick help….
You need poster board display panels to display posters, so the first thing you need to know is what size of posters are being displayed, and how many of them there will be.  Then you can use our guides below to calculate how many poster boards you need to hire.  
What if the numbers change?
This happens all the time, and is only to be expected.  We always bring extra panels to cover these eventualities.  Our aim is to make sure that your event goes well, and that our side of the project causes you no concern at all.  This is why 80% of our business comes from our loyal existing customers.
Have you looked at our dedicated hire services page for detailed information and prices?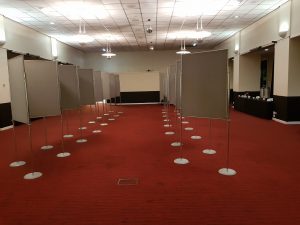 What if someone brings the wrong sized poster?
Again, this is no problem.  Our A0 sized panels can be rotated 90 degrees so that you can mix and match A0 Portrait with A0 Landscape as required.  We can also adjust the  number of panels to accommodate this, or add an extra panel if needed at the time of set up.
How do we attach the posters to your poster boards?
Our poster boards are compatible with hook velcro.  We can supply this for you.  It is surprisingly strong, and can support not only paper, but also 5mm foam PVC panels and other types of graphics. It has a sticky side which applies to your poster, and the velcro side then attaches to our poster boards.   If you're worried about the material you're using, please ask us, and our friendly staff will answer any questions you have.
How does the delivery and set up work?
Everyone has different requirements, and we understand this.  If you would like to collect a few panels and set them up yourself, then this is no problem, and we'll show you how to assemble them.  Alternatively, just tell us the location, and we'll confirm our price for delivery, set up and collection.  For larger events, you probably want to ensure that it's all set up on time, and without any issues, in which case, we can give you a cost for delivery and set-up, which is always reasonable.  And if your situation changes, we will adapt to suit.  We find that our new customers are often worried about how changes to plans, which are inevitable, will affect their contractors.   We are always as flexible as is needed, and won't use that as an excuse to hit you with additional charges.  Our customers' plans change all the time, so we adapt to suit.  If you have specific concerns, then please contact us.  It's completely up to you if you want us to set your hire up, or if you prefer to collect it and set it up yourself.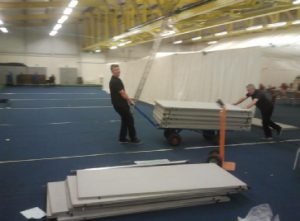 I need clear prices?
We understand the need for clear pricing, and are also aware of how difficult it can be to get firm costings from companies.  This is where we are also different.  When our customers give us their project information (panels numbers and dates), we give them a detailed price.  But we understand that their requirements will change, such as panel quantities and sometimes even dates.  We have NEVER asked a customer to pay above the agreed quote.  A few extra panels here or there has never been a problem, nor has changes to delivery dates or times.  So we bring the extra panels as standard, and have changed delivery dates and times, and even been held back by exhibition centres by hours, but have never, and never will, use this as an excuse to add costs to our customer.   We do, of course, ask for as much information as possible to avoid these issues, but they do happen on occasion;  so be assured, we will not add to that stress, and without further cost, will be as flexbile as we can, within reason.
Why is another company quoting me less than you?
We are very confident that our hire prices are actually amongst the best in the UK.  However, on occasion another company may have offered a customer a better price.  This could be due to them using a less expensive hire system (see below).  They may also have been able to offer you better set-up/ delivery prices based on location and/ or convenience of time.  Although we are based between Glasgow and Edinburgh, we still regularly delivery and set up larger hires (20+ panels) in England as we charge much better rates for our hire panels.  You should also be aware that there are a number of different systems out there.  Our panels are more heavy duty than most, while at the same time, having an attractive and stylish finish than some of the other more industrial units.  As such, our hire kits require maintenance.  If you find you are being quoted significantly less than the price we have given, we would ask that you carefully check some important points, such as quality of product, confirmation of quantity and hire period, and clarification on transportation and set-up/ dismantle costs.
Can I be confident about the quality and condition of your hire panels?
We use a strong and professional hire system which is industry standard, and well known as being the best in the trade.   Our panels are strong, safe, and very flexible, but also attractive with neutral colouring to suit most if not all events.  The panels are aluminium framed, and finished with a grey polyweave material.  They are supported using 32mm aluminium tubes with round grey PVC bases, giving the system a clean, professional finish.  This means that the panels can also be freestanding or joined together, and are sturdy and strong, as opposed to other systems which are simply plastic thin-framed thin panels with far less strength and stability.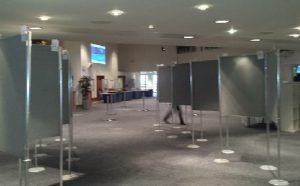 My question isn't answered above:
Have you looked at our dedicated hire services page?   We have tried to make this as informative and helpful as possible with out information overload.  It should give you an indication of hire prices and the possibilities available using our flexible system.
Please contact us for quick and friendly advice.  We understand how difficult it can be if you're not familiar with this side of things, and will be able to answer your questions and give you expert advice within minutes (within office hours usually, of course), and will be happy to do so.  Then, if you're happy with our approach, you might want us to quote for your event, which we would be delighted to do, and give you a set costing for your event.  We don't just supply and set up the panels; we will offer expert help and advice. We always take pride in our work, and want your event to be a success.  This is why 80% of our hire business comes from existing customers.