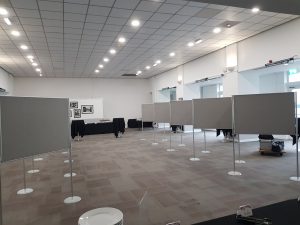 Our customer, the University of Manchester, in conjunction with BP, relies on us to provide a reliable service for their important annual conference, where we have been asked again for the 4th year in a row to provide and set up the exhibition panels for their symposium.
Our panels are also ideal in terms of colour and finish. The grey polyweave provides a neutral, subtle colour along with the aluminium frames of the panels, for a much more aesthetic finish, which works in most environments, as opposed to the blue panel finish which many hire companies seem to prefer for some reason.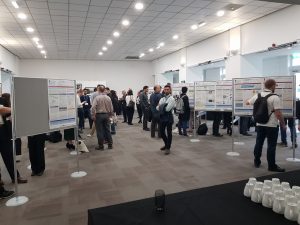 We always have additional panels on hand in case needed, can alternate between portrait and landscape at any time, join panels together at any angle, or set them up freestanding – full flexibility which we've found our customers find invaluable so that they don't need to worry that they can't adapt when problems arise. Which often happens.
The panels can be quickly switched to and from portrait and landscape, and joined together in whichever format. It's a fully flexible system, and you aren't restricted to certain formats the way that other systems can do.
Our system adapts to suit you. Not the other way around !
Hopefully this brief summary of some of our hire work this year will demonstrate that we can usually help with any of your poster board requirements, so please don't hesitate to contact us so we can advise further.
Got a question? Call us now:
Poster Board Hire – Manchester Conference Centre – Manchester University